February 2009: An evening at Yaquina Head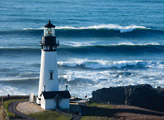 Keeping an Eye Out
The Yaquina Head Lighthouse was built in 1872, and originally called the Cape Foulweather light. It is Oregon's tallest lighthouse, at 93ft.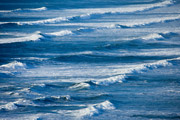 Waves
Waves break slowly over shallow waters to the north of Yaquina Head.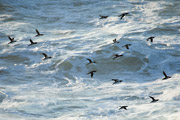 In Flight
A large colony of Common Murres calls Yaquina Head home. A nearly constant parade of these birds zipped over the turbulent waters below Yaquina Head.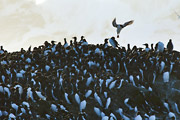 Landing
This colony is on a small island just offshore. The island gives some natural protection from land-locked predators.

Pools
A large tidepool area is just to the south of Yaquina Head. While there is a variety of sea creatures to be found, it's a fairly popular area, and a bit 'loved to death'. The BLM tries to keep the crowds confined to a limited area.

Where is it?
Yaquina Head is just a few miles north of Newport, Oregon... on the Oregon Coast, of course.
Before you go...
There is an entrance fee to visit the Yaquina Head Outstanding Natural Area. It is administered by the BLM... and that's Yah-KWIN-uh