July 2006: Whale watching in Húsavík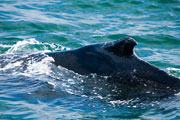 A Brief Visitor
Whale watching is a popular activity in many places in Iceland - especially in Húsavík. We explored the bay of Skjálfandi - first stopping to see the puffins on the island of Lundey, then heading out to see the whales further to the west. Here, a Humpback whale breaks the surface of the water.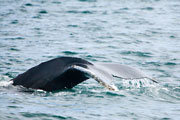 Headed Down
Whale watching can often be more accurately described as "tail" watching. Here, a humpback whale flips his tail before making a dive for more food.

Sails
The boat we took was a sailing schooner. We used the engine for most of the trip, but were able to sail most of the way back. Luckily we had good weather!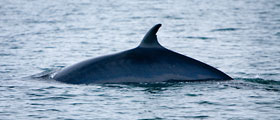 Breaking the Surface
I'm not sure which this is... perhaps a Minke whale?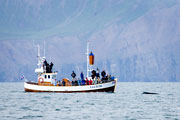 Ooh, look!
There are only a couple companies operating out of Húsavík, so it doesn't get too crowded. We mostly had the whales to ourselves... that is when they were cooperating. Whale watching involves a good bit of guessing, as you never know where the whale might resurface.

Aye aye sir!
The boat captain was a nice guy... and he had an honest-to-goodness captain's pipe to boot!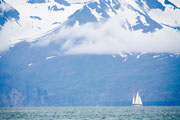 Sailing...
Actually, I partially considered the whale watching an excuse to get out on the water and see new perspectives in Iceland. Here a sailboat moves beneath the steep seaside mountains of Víknafjöll.

Where is it?
There are a number of places to go whale watching in Iceland and elsewhere around the world. But in Iceland, Húsavík is a good choice.
Before you go...
For the Húsavík trips, there's not much point in booking a trip too far in advance. Wait until you get there, see how the weather is, and decide if/when you want to do it.
Comments
Enter comments below