June 2009 - A quick trip just beyond Tumalo Falls

A Classic Scene
The Tumalo Creek winds down a canyon from the heights of Tumalo Falls.

On the Lip
If you were inclined to try to fly over the edge of Tumalo Falls... you might see a view like this one.

More Falls
A mile past Tumalo Falls, this waterfall can be viewed below a rock ledge.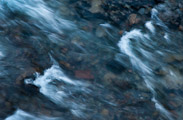 Rock - Water
Tumalo Creek glows blue in the early morning light.

Where is it?
Tumalo Creek flows from the Central Oregon Cascades east toward Bend, OR. Tumalo Falls is very near the trailhead, and can be viewed and enjoyed by non-hikers too.
Before you go...
If you keep going up Tumalo Creek, you'll pass a series of waterfalls, and can even make a loop hike.