April 2007: Tulips galore in the Skagit valley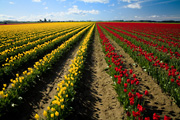 Left vs. Right
The lower Skagit River valley in northwestern Washington state is world famous for the annual blooming of tulip fields.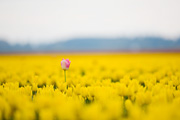 Periscopic
The tulips are grown for their bulbs, which are later dug-up and sold to gardeners across the country. Every now and then, an errant variety pops-up in an otherwise homogenous field.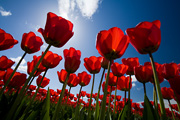 Immersed
Sometimes it seems you could just disappear into the fields forever.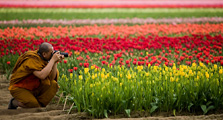 Be the Tulip
The natural beauty attracts many admirers.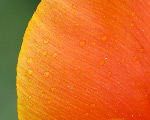 Wet Decor
A bit of morning moisture decorates a tulip petal.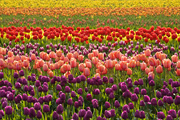 In Rows
In any given year, there are about 15 or so large fields. The farms also run a couple of display gardens, with more exotic varieties planted closer together.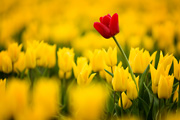 Red on Yellow
Another misplaced red tulip... or perhaps perfectly placed?

April 2004: More Tulips at the Wooden shoe!

Endless Color
It was a beautiful day at the Wooden Shoe Tulip Farm in Oregon.

Flowers and Mountain
Mt. Hood provided a nice backdrop on this sunny day.

April 2003: Cheking out the tulip fest at The Wooden Shoe Tulip farm

Tulips and Tree
Just outside of Woodburn, OR, The Wooden Shoe Tulip farms put on a display.

Rows of Color
The fields are planted with quite a variety of color.

Variety is the Attraction
In years past, it was a small affair, where you just parked beside the road. Now, it's $4 to park, there are vendors, crafts, activities, etc... But the flowers are still the same.

At the Tulip Farm
The flowers attract quite a few people. I've never seen more cameras and babies in my life!

Where is it?
The Woodburn, OR tulip fest usually runs during the first few weeks of April. Go to Woodburn & follow the obvious signs to "the wooden shoe". The flowers are typically in bloom from mid March to early April. The Skagit Valley tulip festival usually runs through most of April. The fields are located in the area between Mt. Vernon and LaConner Washington.
Before you go...
Wherever you go, get there early to avoid the crowds on sunny weekends (or go during the week!)

[an error occurred while processing this directive]