May 2007: Exploring the Pinnacles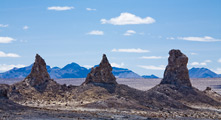 Three Pinnacles
The Trona Pinnacles are tufa spires - mineral deposits formed long ago under the now-dry Searles Lake. They are very prominent against the otherwise flat lake bed.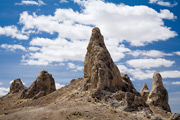 Pinnacles and Clouds
Some of the pinnacles reach a height of 140ft above the surrounding landscape.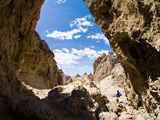 In the Pinnacles
A couple of roads wind through the pinnacles, and various footpaths provide more opportunities for exploration.

On Another World
These unusual otherworldly formations have been used as a set backdrop for various movies and TV shows, including Planet of the Apes, and Star Trek.

Where is it?
The Trona Pinnacles are located just southwest of Death Valley, near the town of Trona, CA.
Before you go...
The road to the pinnacles is about 5 miles of dirt, but it's in pretty good shape. All services are available in Trona, which is just up the road.

[an error occurred while processing this directive]