May 2007: A visit to Tamanawas Falls

Tamanawas
The previous autumn, floods washed down most of the streams emmenating from Mt. Hood. Among the catalog of destroyed items was the footbridge allowed the quickest access to Tamanawas Falls. Luckily, another trailhead just to the north is still open, only adding a mile or so to the hike. The falls were as beautiful as ever...

Tamanawas Side View
A side view of these impressive falls.

Behind Tamanawas Falls
Cold Spring Creek rushes into the distance beyond Tamanawas Falls.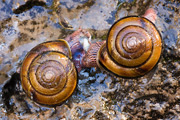 Snail Hanky Panky
A couple of rather immodest snails are caught in the act of copulation. Snails are hermaphrodites - they're both male and female. Their sexual organs are located in their "necks". After a lengthy courtship (which can last hours... these are snails after all), the pair intertwines and fertilizes each other's ovum.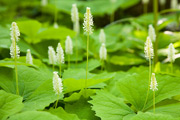 Vanilla Leaf
Vanilla Leaf was blooming thickly along the side of the trail.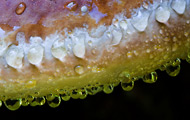 Wet Morning
Morning moisture exudes from a conk growing at the base of a dead tree.

February 2005: A visit to Tamanawas Falls

Tamanawas Falls Winter
Tamanawas Falls is located on the east side of Mt. Hood. From the trailhead along Hwy 35, it's an easy 2 miles to the falls.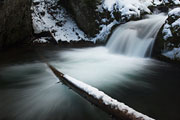 Cold Spring Creek
The trail follows the course of Cold Spring Creek upstream. The snowpack is rather low this year - this photo was taken at approx 3,500ft elevation. In a normal year in mid-February, there would be many feet of snow covering the bank.

Ice Teeth
These icicles formed along the shore of Cold Spring Creek. However, the rushing water prevents them from growing pointed tips. The result looks a lot like ice "teeth" to me..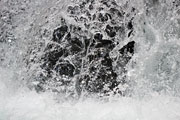 Still Cascade
This is a freeze-frame of water cascading down a small waterfall on Cold Spring Creek.

Where is it?
Tamanawas Falls is located along Cold Spring Creek, east of Mt. Hood. The nearest trailhead is along Hwy 35, at a roadside pullout just north of Sherwood campground.
Before you go...
There are a number of trails connecting to the Cold Spring Creek Trail. One can hike to Elk Meadows, the Timberline Trail, and if you are ambitious enough, even to the PCT, PNT, CDT and south to Mexico! all on trails (well, mostly trails). A flood and series of washouts in 1999 wiped-out some of the trails in the area, so some maps are out-of-date. Another flood in 2006 wiped-out the bridge at the East Fork trailhead (which means you have to start at the Polallie Trailhead about a mile north). Everything is fairly well-signed.
Comments
Enter comments below