April 2006: A hike up Peralta/Boulder Canyon toward Weaver's Needle

Superstition Mountains
The Superstition Mountains harbor a wonderful wilderness area, virtually in sight of the 5th largest metro area in the United States. This view looks from near Fremont Saddle back toward the Peralta trailhead area.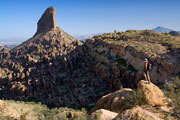 Weaver's Needle
Looking the other direction from Fremont Saddle is this dramatic view of Weaver's Needle. A system of trails criss-crosses through the terrain below.

Desert Bloom
Despite the very dry winter/spring, a few cactus flowers have managed to bloom.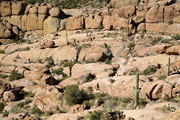 Rock and Cacti
I took a cairned route called the "cave trail" from the Fremont Saddle area back to the trailhead. The terrain was made of smooth rocks and prickly plants.

Saguaros in the Light
Here the early morning light illuminates the prickly fur of some Saguaros.

Where is it?
The Superstition Mountains are located just east/southeast of Phoenix, AZ. There are a number of trailheads in the area. To reach the Peralta Canyon trailhead, drive Hwy 60 east to milepost 204, and turn left on a forest road where there's a sign. The trailhead is located at the end of the road.
Before you go...
This can be a very popular trailhead. Parking is around $4 (I think) per day. There is a machine in the parking lot to pay - it even takes credit cards... wilderness indeed!
Comments
Enter comments below