July 2006: A visit to Stykkishólmur

Ferry to Flatey and Brjįnslękur
Stykkishólmur is located on the Snęfellsnes peninsula in the west of Iceland. This small town (ok, basically all the towns in Iceland are "small") features a well protected harbor, easy boat access to hundreds of nearby islands, and a ferry that connects Stykkishólmur with Brjįnslękur in the northwest fjords of Iceland. The ferry also makes a stop at the small island of Flatey.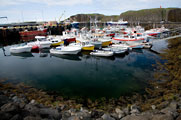 Stykkishólmur Harbor
Historically, Stykkishólmur was a fishing village, but in the summer months, tourism is becoming a bigger deal. Stykkishólmur is a very picturesque town, and a good base for excursions throughout the Snęfellsnes peninsula. Another fun thing to do is hire a small boat for a nature tour of the seals and birdlife living on the nearby islands.

Home in Stykkishólmur
As usual, the homes are neatly kept and painted bright colors. There are a few historic homes in Stykkishólmur as well.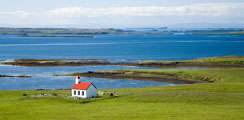 Narfeyri Church
This small church is just outside of town (I believe it is Narfeyri). This has to be one of the most photographed churches in Iceland (I've seen many photos of it). The reason is that Įlftafjöršur (the water) behind the church is really beautiful, but there are only a couple places where the road is high enough that you can see any distance over the water. Also, there are few "things" along this stretch of coast to provide a good "foreground interest"... Oh well. Stykkishólmur can just be seen on the land in the distance.

Where is it?
Stykkishólmur is located in the west of Iceland, at the end of highway 58.
Before you go...
If you're coming from the east, road 54 is nearly 60km of dirt, but it's in pretty good shape.

[an error occurred while processing this directive]