December 2006: A visit to Starved Rock State Park

Along the Illinois River
Starved Rock State Park is located in north central Illinois, along the south bank of the Illinois river. Sandstone bluffs rise a couple hundred feet above the banks of the dammed river. The bedrock was originally uncovered when a glacial flood scoured the landscape at the end of the last ice age. Legend tells of a group of Illiniwek Indians who starved at this location after being trapped on the rocks by another tribe. Some time later, the area was home to a French colonial outpost (which is now long-gone).

Overlooking the Illinois River
An extensive system of trails lead to many scenic spots. Many of the trails are comprised of boardwalks, which help keep the hoards of visitors from trampling on the fragile plants and wearing down the sandstone. Still, many of the rocks are scarred with graffiti from thoughtless jerks.

LaSalle Canyon Falls
When the snow is melting, or after a good rain, waterfalls form in many of the side canyons that lead down to the Illinois River. This waterfall is at the head of LaSalle Canyon.

Trail Signs and Boarwalks
In total, there are about 13 miles of well-marked trails to explore.

St. Louis Canyon
Another side trail leads to St. Louis Canyon, where a thin trickle of water floats down a colorfully decorated sandstone facade.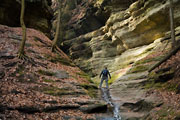 French Canyon
The dramatic entrance to French Canyon gets another visitor.

Where is it?
Starved Rock State Park is located just south of the town of Utica, IL (not far from Peru, IL or Ottawa, IL). The park is along the south shore of the Illinois River.
Before you go...
This is one of the few natural areas within a day's drive of Chicago Illinois. On a weekend, when the weather is good, you can expect a lot of company. Plan to arrive very early to beat some of the crowds. It might also be nice to visit in a light rain - the waterfalls might be running, the crowds might be lower, and the light might be better for photographs.
Comments
Enter comments below