July 2008: Nearly to the top of South Sister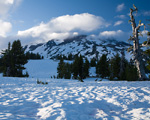 Approach
South Sister is a 10,363ft volcano in the central Oregon Cascades. There is a trail to the top of this mountain, but for a good part of the year, it's covered by snow. This year, the snow pack was especially thick - a solid blanket covered much of the route. This is a view from the 7000ft level, where many people spend the night before heading up the mountain.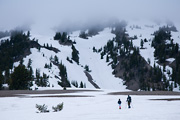 All Ages
A lot of people come to climb South Sister. This duo heads into the clouds, hoping things will clear up as they begin their ascent.

Broken Top
Broken Top is an older eroded volcano just to the east of the Three Sisters. The top is 9,175ft in elevation. Here, clouds roll over mountain in the early morning.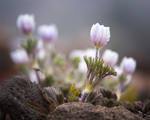 Anemone
I believe these are Western Anemone (slightly more pink than usual). These flowers turn into a bearded ball of fluff when they go to seed.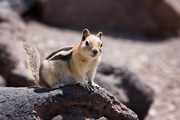 Chipper
This little guy was fast, friendly, yet a bit apprehensive just the same. He darted in and out of the rocks, hoping to find some morsel left behind by the steady stream of human visitors.

Lakes
To the south, a series of large mountain lakes were clearly visible. A couple of these are likely Elk Lake, Odell... and others.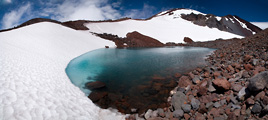 Final Ridge
The skies briefly cleared on this day as we reached the lower part of the Lewis Glacier. As we continued up, the clouds returned - thicker this time - and we turned back around 9,500ft. As we descended, the clouds never did clear again. The summit view would have to wait for another day.

Where is it?
South Sister is located in the central Oregon cascades, just west of the town of Bend, OR.
Before you go...
This is a very popular climb, with a trail to the top. But, it's no cakewalk. Be prepared for conditions!