April 2009: A brief visit to Sol Duc Falls

Illuminated
Shafts of sunlight ignite the mist of a swollen Sol Duc Falls.

Cascade
This small nameless cascade is an example of the simple joy of exploring a forest like this. Every turn of the head can yield unique treasures.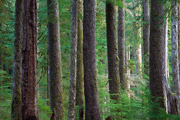 Support
The forest grows timeless and strong.

Up the Falls
Another view of Sol Duc Falls. In the late spring, the river is swollen with pure, fresh, frigid snowmelt. Later in the year, the rate of flow lowers, and the waterfall takes on a more delicate nature.

Where is it?
The Sol Duc River flows from the Olympic mountains northwest to the Pacific Ocean... In a way, it's the northwest's most northwest river. A trail follows the river's course to its origins high in the Olympic mountains.
Before you go...
The road to the trailhead is often closed in winter. The road isn't plowed. During the summer, the area can be crowded with visitors to the nearby Sol Duc Hot Springs.