July 2006: Exploring Skaftafell National Park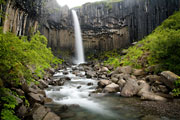 Svartifoss
Skaftafell National Park is located in the southern part of Iceland, encompassing a large portion of the giant Vatnajökull ice sheet and some of the surrounding low lands. Most of the park is only accessible by difficult treks on foot over tundra and ice. A system of trails does lead to some interesting features in the low lands near the main entrance. This is a photo of a rather well-known waterfall in the park called Svartifoss (meaning "Black Falls"). The water pours dramatically over a lip of columnar basalt.

Cut in the Earth
Svartifoss can be reached by a short (~2 miles) hiking path that leads up the hills from the campground and entrance area. Most of the foothills in this area are covered in thick brush, which gradually gives way to alpine tundra as one climbs higher.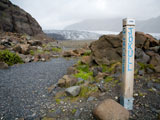 A Brief History of Glaciers
Down near the main park entrance, a trail leads to the snout of a glacier that is fed by Vatnjökull. The glacier is called Skaftafellsjökull. This marker shows where the snout of the glacier reached in 1980 - it has receded considerably since then.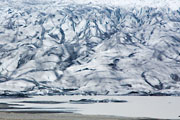 Ancient Ice
This is a closer view of the snout of Skaftafellsjökull. The dark colors on the ice are made of sand and small rocks that have either been carved from the mountains and carried down, or been blown onto the ice by the wind. The glacier reaches nearly to sea level - the ocean is only about 20 miles away, across a flat sandy delta called Skeišarįrsandur.

The Melting Point
The glacier is always moving downstream, pulverizing the rock underneath. It's this crushed rock that gives the water the dirty color seen here. Some very interesting plumbing carries the water over, under and through loose soils that are constantly being rearranged by the water and ice.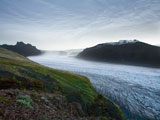 Skaftafellsjökull
Another hiking path leads to this view of Skaftafellsjökull. The trail continues to the top of some peaks off to the left side of this photo. As large as this glacier seems, it is just a small finger of the giant Vatnjökull ice sheet, which extends uninterrupted for over 50 miles to the north, beyond the dark mountains seen here on the horizon.

Where is it?
The main entrance to Skaftafell National Park is just off the main ring road. Like many points of interest along the Iceland ring road, it's hard to miss.
Before you go...
There is a large grassy campground with showers near the entrance to the park - a great lodging option. There is also a fairly well-stocked store in the main park building (in case you're short of a couple things). In the high summer, you can hike virtually 24 hours. Hiking in the early morning or late at night will just about ensure you'll have the trails to yourself.
Comments
Enter comments below