October 2006: A Visit to Silver Falls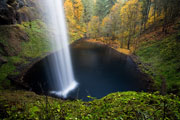 Shaft of Water
This is the view from behind the South Falls in Silver Creek State Park. This popular trail continues down to a bridge that crosses near the foot of the pond seen here. Through its course, the trail passes around a dozen waterfalls, and twists through some wonderful examples of lowland Oregon forest.

Middle North Falls
I got an early start and headed down the winter trail to see Middle-North Falls.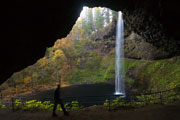 Behind South Falls
Here is another view from the trail behind South Falls. Typically, this is one of the most popular state parks in Oregon, but on this early weekday morning, I had the trails nearly to myself.

Lower South Falls
Lower South Falls also features a "behind-the-falls" path, but has a character all its own.

Autumn in the Forest
The color in the forest undergrowth was magical. In this part of the country, the autumn color often gets cut short when the leaves get wet, rot, and just fall off. It was a real treat to have a couple weeks of beautiful autumn weather this year.

April 2003: A day-hike in Silver Falls State Park

Waterfalls Galore
A 6 mile loop through Silver Falls State Park passes quite a few impressive waterfalls.

Another Waterfall
I can't remember the names of all these falls.

Nature's Delight
The trail is quite nice - very flat & well groomed. The park attracts tons of visitors in the summer. In other parts of the park you can ride bikes, horses, and have conventions. Near the waterfall trail, there is an old lodge that sells coffee and some snacks.
South Falls
The trail cuts behind a few of the waterfalls.

Where is it?
Silver Falls State Park is about 30 miles east of Salem, OR on hwy 214.
Before you go...
It's a few bucks to park at the park. You might consider visiting in the off-season (not summer) or during a weekday in order to avoid the crowds.
Comments
Enter comments below