July 2007: St. Johns Rodeo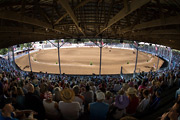 St. Paul Rodeo
Welp, I guess I done gone country... The St. Paul Rodeo is an annual tradition on July 4th every year. The grandstands were packed on this hot day.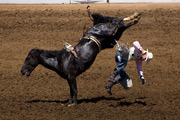 Bucked
The first event was the bareback riding... In all the roughstock riding events, the rider has to stay on a minimum of 8 seconds to get a score. Beyond that, he's awarded points by judges for overall style. It's an interesting balance - if the ride is too rough, the rider can't stay on, too mellow and the points will be low.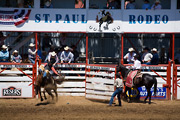 Yee-Haw!
Another contestant breaks out of the gate at the St. Paul Rodeo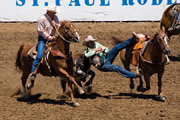 Steer Wrestling
In the steer-wrestling event, the cowboy has to jump off his horse, grab a steer by the horns, bring him to the ground and tie him up. Each contestant is timed.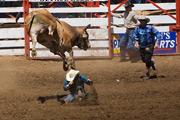 Hard Work if you can get it
Bull riding is probably the most famous rodeo event. It's certainly the most dangerous and difficult. Staying 8 Seconds on a bucking bull isn't easy!

Rough Ride
Bull Riding is generally a young man's sport.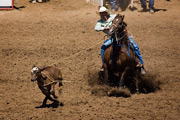 Tie-Down
In the Tie-Down roping event, the cowboy first lassos a calf, then has to tie up any 3 of its legs. This is a timed event.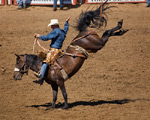 Buckin Bronc
Saddle Bronc Riding is another "stay at it 8 seconds, then get judged" event. The horses kick because of a strap that's allowed to dangle over their back ends (you can see it in this photo). They just don't like it hanging back there...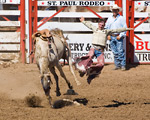 Free Fall
8 Seconds isn't so easy...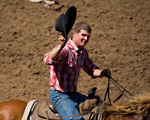 Winner...
This contestant tied a Bronc Riding record score!

Teamwork
In Team-Roping, one cowboy ropes the horns, and the other the back legs.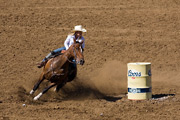 Rounding the Barrel
Barrel Racing is the only women's event. The riders have to go around 3 barrels then over the finish. The event is timed. Knocking over a barrel is a 5-second penalty, and usually knocks a rider out of competition.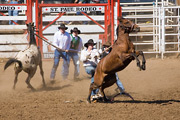 Wild Horses...
Chaos best describes the wild horse race. A bunch of wild (unbroken) horses are let loose in the arena, and the cowboys (in teams of 2) have to mount a horse and ride it out of the arena. It's not easy, and many contenstants get thrown off their horses and drug through the dirt.

Where is it?
The St. Paul Rodeo happens in St. Paul, Oregon on July 4th each year.
Before you go...
The rodeo actually runs over the course of a few days - ending on July 4th. The rodeo is accompanied by a fair with food, rides and games.