July 2006: A few photos from Reykjavík

Hallgrímskirkja
Hallgrímskirkja Church is the most prominent landmark in Reykjavík. Churches are rather ubiquitous throughout Iceland, and most of them match the character of the surrounding town. It's no surprise then that Reykjavík has the country's largest church. The tall white building is a very useful navigation landmark if you're exploring that part of town!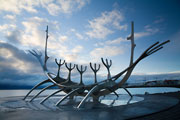 Sun Voyager
The striking sculpture Sun Voyager by Jon Gunnar Arnason is an impression of a Viking ship, and a reminder of the Icelandic heritage.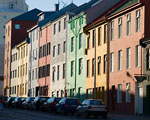 The Walls Have Color
A string of colorful building fronts add life to the otherwise very practical architecture.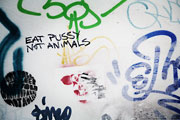 Important Message
I was surprised to see a lot of graffiti in Reykjavík, but a good portion of it was interesting... and as colorful as the people and the town.

Where is it?
Reykjavík is the capital of Iceland, and the most populous city in the country. It is located in the southwest part of the country.
Before you go...
Reykjavík can be a bit expensive. If you're visiting for a short while, you shouldn't need a car to get around - better to use a bus or your feet. Also, note that the main airport is in Keflavik, about 25 miles to the west.
Comments
Enter comments below