May 2006: A visit to the Aldelman Peony Gardens

Peony Buds
The Adelman Farm has had Peony Gardens since 1993. Visitors can walk among the dozens of flower beds at their leisure. This bed is about a week or two from full bloom.

Soft in the Center
The Peonies all share a basic physical structure, but there are hundreds of varieties in size, shape and color. There are both bulb-grown peony varieties, and woody peony shrubs.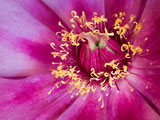 Floral Explosion
The Peony is native to Asia, Western North America, and Southern Europe. This photo is a closeup of one of the more dramatic specimens.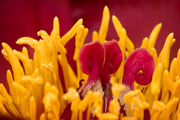 Heart of a Peony
Many of the varieties have whimsical names like "Angel Cheeks" or "Salmon Beauty".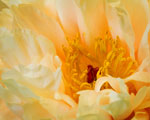 Ruffles
Some of the varieties are brand new. This one is a new crossbreed.

Beeina Peony
There is a lot of work for bees in a field full of Peonies!

Where is it?
The Adelman Peony Gardens are located about a mile east from exit 263 on I-5 in Oregon (near Salem)..
Before you go...
The peonies start blooming in late April, but really peak in mid to late May in most years.
Comments
Enter comments below