May 2007: A visit to Niagara Falls, Oregon

Over the Lip
The unfortunately named Niagara Falls have virtually nothing in common with their more famous cousin. These falls plunge 200-something feet over a cliff - a common setup for waterfalls in the pacific northwest.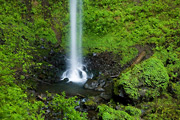 Splash Effect
A close-up shows the dead-zone. Too close to the water, and the plants can't take the pounding. Just far enough, and the constant spray of water creates a rich green paradise.

View From the Back
There isn't a lot of room behind these falls, but enough for a little exploration.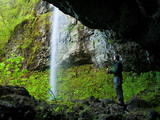 Behind Niagara Falls
The falls are reached by a 1 mile downhill trail (uphill on the return). The trail passes another falls - Pheasant Falls - along the way, but it's not quite as photogenic as Niagra.

Growing Fern
A fern unfurls... such an elegant process for so simple a plant.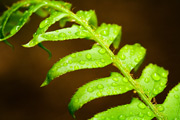 Wet Fern
The previous night's rain lingers on a few fresh fern leaves...

Where is it?
Niagara Falls are located southeast of Tillamook, Oregon, down a bunch of winding forest roads...
Before you go...
Get good directions to the trailhead! from 101 at the town of "Beaver", turn east on Nestucca River Rd (the main road east). After about 11 miles, turn right on road 8553, which might not be marked, but it cuts across a farm field and over the river, then up in the mountains. The trailhead is another 4-5 miles down this road... there's one last right turn just before the trailhead - there should be a sign at that turn (and maybe others earlier).
Comments
Enter comments below