October 2007: Overnight in the Necklace Valley

Autumn Trail
The trail to Necklace Valley starts with a few miles through varied forest, often within earshot of the roaring East Fork Foss River. The leaves put on a final display of color before their annual fade into the forest floor.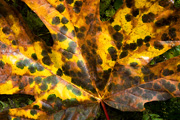 Big Leaf Maple
The leaves don't just change color, they are ripped apart by molds and micro-organisms that leave explosive battle scars of color and texture.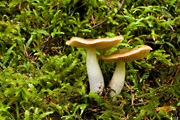 Mushrooms Madness
The forest floor was alive with all variety and size of mushrooms.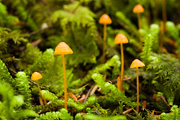 In Smaller Dimensions
It seems every niche was covered by some opportunistic fugal sprout.

Bear's Head Tooth
This Bear's Head Tooth mushroom was exploding out the side of a fallen tree. These are edible giant mushrooms with a delicate fleeting beauty. In only a few days this mushroom will turn to a brown ball of mush. I couldn't decide if anyone was worthy to eat such a beautiful thing.

Mushroom Tower
A column of mushrooms decorates the crook of a tree along the trail.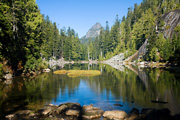 Jade Lake
The main attraction of this trail is the cluster of lakes high in the valley. Here, Jade Lake shines.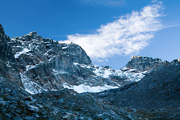 Above the Necklace
The terrain gets pretty rough above the main valley. Over the night, a thin sheet of ice covered most of these boulders, making progress difficult and slow.

Glacier Peak
I climbed to get this view of Glacier Peak to the north. I stopped to ponder the many folds in the horizon. Which had I walked along and on top of? How many would I one day explore?

Where is it?
The Necklace Valley is located in the Alpine Lakes Wilderness of the North Cascades Mountains in Washington. The trailhed is a few miles east of Skykomish, WA along Hwy 2.
Before you go...
Parts of the upper trail are in pretty poor repair - be prepared for a challenging climb up a lot of roots, rocks and mud. The lower trail is in really good shape however.