Misc.
Various Dates: I've created this page for images which aren't part of larger collections

Lunar Eclipse
A photo of a lunar eclipse on Oct 27, 2004.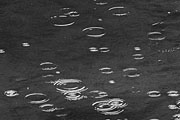 Drops
I went for a hike along the Clackamas River in 2004, but it rained the whole time. So, it wasn't a very successful outing for photography. But, I did get this image of raindrops in a pond.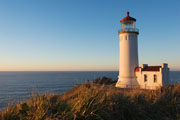 North Head Lighthouse
The North Head lighthouse in Fort Canby State Park in southwest Washington.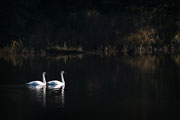 Two of a Kind
A pair of swans glow in the sunlight on an otherwise dark pond. This was along a roadside in coastal SW Washington State.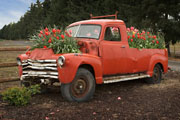 Tulip Truck
Somebody on Sauvie Island has a sense of flair... or a sense of humor!

Happy Landings
A very friendly encounter near Monte Cristo, WA.

Sunrise
Sunrise near Grassy Meadow in southern Washington State.

Where is it?
These photos are from locations all over the solar system.
Before you go...
Get a good education, honor your mother and father, and don't fly too fast through the atmosphere.