March 2006: Skiing in the Methow Valley, WA.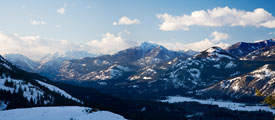 Methow Valley View
The Methow valley (pronounced Met-How) is located in the eastern foothills of the North Cascade Mountains in Washington state. This view from the Sun Mountain Lodge looks north over the valley and surrounding hills. Goat Mountain is the higher peak in the center.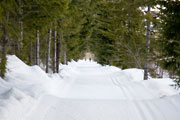 Cross Country Ski Trails
The area is famous for its well-established network of cross-country ski trails. Nearly 200 kilometers of groomed trails connect 3 major areas - the Mazama area in the north, the Rendezvous area in the middle, and Sun Mountain in the South. Here, the Methow Valley Community Trail winds north toward Mazama.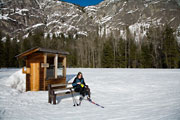 Taking a Break
Trails in the Mazama area are mostly flat, offering as much challenge as you wish. A few small warming huts provide some shelter on colder days, or a place to simply sit down on warmer ones!

Snowscapes
This is a view along one of the Sun Mountain area trails.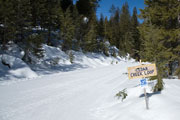 Trail Sign
The trails in all the areas are well marked, and groomed regularly. This is a trail in the Rendezvous area. These mostly challenging (i.e. steep) trails connect a number of well-stocked backcountry huts that can be reserved in advance.

White Headed Woodpecker
This White-Headed Woodpecker was a new sighting for me. He put on quite a show - peeling and pecking bits of bark in search of insects waiting out the winter.

Hairy Woodpecker
A short while later, I came across this Hairy Woodpecker, doing nearly the same thing - totally oblivious to my presence.

Where is it?
The Methow Valley is located in north-central Washington State. The town of Winthrop is most often considered the hub of the area.
Before you go...
The valley is a great place to visit in any season. But, keep an eye on the weather forecast... and remember - hwy 20 is closed in the winter, cutting off easy access from/to the west.
Comments
Enter comments below