May 2005: Exploring the Malheur National Wildlife Refuge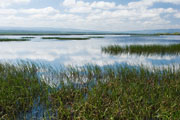 Malheur Wetland
The Malheur National Wildlife Refuge is a treasure in every sense. It is an immense oasis in an otherwise desolate land. The refuge is in essence a giant inland floodplain, fed by moisture from the distant Steens and Blue mountains. This is a view over Benson Pond.

Yellow Warbler
The refuge is a haven for a myriad of bird species that stop along their migratory routes, or stay to breed. Pictured here, Yellow Warblers are just one particularly common and visible species near Benson Pond, in the southern part of the Refuge.

Birders
The abundant and varied bird life attracts enthusiastic flocks of birders, who migrate from great distances.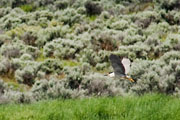 Black-Crowned Night Heron
This Black-Crowned Night Heron was a first sighting for me. I always wondered if, when and how I would see one of these mostly nocturnal birds. They're not uncommon, but often hard to see among thick marshland plantlife.

Western Wood Pewee?
I believe this is a Western Wood-Pewee, another first sighting for me. Again, this isn't an uncommon bird, but so ordinarily drab, one might not notice it unless actively scouting for unusual birds.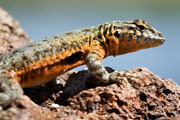 Common Side-Blotched Lizard
Birds aren't the only wildlife that call this area home, I spotted this Common Side-Blotched Lizard drinking in a puddle that had formed on top of a rock. He paused just long enough for me to admire his striking firey colorations.

Where is it?
The Malheur National Wildlife refuge is located in south eastern Oregon, south of the town of Burns, and northwest of the Steens Mountains.
Before you go...
There are few services in the area. Be sure that you have enough gas, food and water if travelling on some of the more remote roads. Though, you can get all 3 just down the road from the MNWF headquarters. It's a good idea to call ahead for road conditions... and bird conditions if that's your thing!