July 2008: A quick visit to Little Crater Lake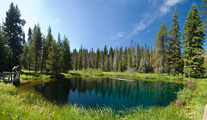 Little Crater Lake
Little Crater Lake is an artesian spring, approx 45 feet deep. This crystal clear pool is fed by underground springs, and is ice cold. A short path leads from the nearby campground to a platform near the pool. Just to the west, the path connects to the Pacific Crest Trail.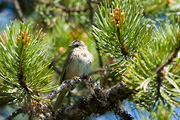 Lincoln's Sparrow
This small bird filled the air with a sweet melody of twitters and whistles.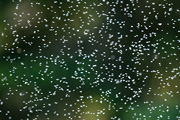 A Bug's Life
There are a number of wet meadows around Little Crater Lake - excellent habitat for flowers, birds, and of course, bugs. These tiny gnats swarm harmlessly - their entire adult life compressed to one sunny afternoon.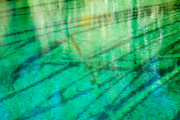 Emerald Waters
The lake usually looks more blue than it appears in this image. Regardless, the pool glows with a magical intoxicating color of pureness. The old trees at the bottom are clearly visible through 40+ feet of water.

Where is it?
Little Crater Lake is located in the Mt. Hood National Forest, just to the northeast of the larger and more well-known Timothy Lake.
Before you go...
The trail from the adjacent campground is very short - only a couple hundred yards. If the road isn't under snow, be sure to stop by.