May 2005: A visit to Leslie Gulch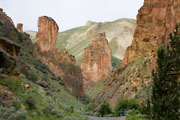 Leslie Gulch
Leslie Gulch is officially designated by the BLM as an "Area of Critical Environmental Concern". I'm not sure exactly what that means legally, but it is a stunning landscape of jagged eroded cliff sides and rolling sage-covered hills.
A road follows the bottom of Leslie Gulch from highlands near the Idaho border all the way down to Owyhee Reservoir - formed by the dammed Owyhee River.

Juniper Narrows
A number of side-canyons lead into Leslie Gulch. Here, Juniper Gulch narrows to a tight squeeze. The routes up these gulches are informal trails that follow their sometimes sandy bottoms. For the most part, it's easy walking, until the way gets too steep or narrow to proceed.

Juniper Gulch
This is a view south, down Juniper Gulch and up the other side of Leslie Gulch. The usually brown and sage-colored hillsides were brought to life by late spring rains.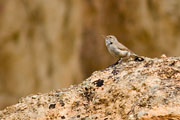 Rock Wren
Bird life flourishes in the springtime. Chukars, doves, ravens, falcons and hawks are common sights. Here, a Rock Wren sings from a prominent perch on a rounded boulder.

Honeycombs
The actions of weather and water gives the faces of some cliffs a honeycombed texture. A few miles north of Leslie Gulch, the Honeycombs area features an abundance of these features.

The Strangest Places
The late spring flowers take root in any crack or bit of sandy soil that will support them.

Timber Gulch
Timber Gulch is a particularly scenic and interesting side-canyon. The way continues up some distance, in and around a seemingly impenetrable fortress of natural rock.

Where is it?
Leslie Gulch is located in far eastern Oregon, just east of the Owyhee Reservoir. A well graded road travels the length of the bottom of Leslie Gulch..
Before you go...
There is only one campground in Leslie Gulch, available on a first-come first-serve basis. Conditions of the road and weather can vary quite a bit. Heavy rain can lead to flash-flooding and mud. Extreme heat can be unpleasant or dangerous, prepare accordingly!