November 2007: Exploring Kaua'i

Wailua River
A group of Kayakers explore the Wailua River, perhaps to visit a steep wall of ferns called the "fern grotto" or hidden waterfalls. The Wailua is one of the few navigable rivers of any length on any Pacific Isle. It's no wonder the natives marveled at it, and considered it a sacred thing. They built a series of ceremonial structures at regular intervals along the banks.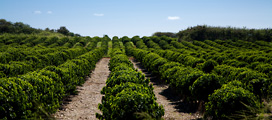 Coffee
The warm climate and abundant rain of Kaua'i are suitable for growing all kinds of plants and crops. This coffee plantation is one of the newer additions.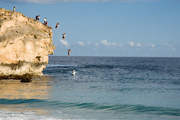 Shipwreck Beach
In this multiple exposure, a man plunges from the cliffs above Shipwreck Beach. This is located in the Po'ipu area of southeast Kaua'i.

Tropical Sunset
A view west from Po'ipu Beach on the south coast of Kaua'i. Don't you wish you were there?

Waimea Canyon
Waimea Canyon has been called the "Grand Canyon of the Pacific" (While this is often attributed to Mark Twain, he never actually saw it). It is a spectacular sight. The contrast of the deep red soils with the rich green foilage give this canyon a unique beauty.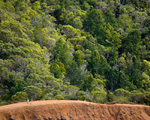 Waimea Canyon Trails
A couple hikers explore one of the many trails through Waimea Canyon.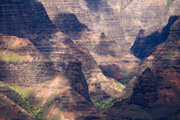 Waimea Canyon Walls
Here, the colorful walls of Waimea Canyon are dappled with sunlight and cloud shadows. A couple of lookouts along the road give nice views into the canyon. There are also numerous trails that wind through the landscape below.

Wailua Falls
Wailua Falls plunges 173ft in eastern Kaua'i. While there is a rudimentary trail to the bottom of the falls, a pullout along the road affords this view.

Where is it?
Kaua'i is located in the central Pacific ocean, one of the Hawai'ian Islands.
Before you go...
The weather doesn't fluctuate much throughout the year. November is the least busy month - but not by much. Be prepared for crowds at the most popular and accessible locations. But, anywhere you have to walk down a trail - even a short distance - you can find a little solitude.