May 2006: A visit to Blue Basin and the Painted Hills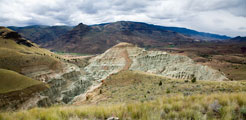 Above Blue Canyon
A three mile trail encircles Blue Basin. This photo is taken from a high point along the trail, looking down at the basin below. The trailhead is on the other side of the basin. Another side-trail heads from near the trailhead up the bottom of the basin.

Hikers in Blue Canyon
Here, a few hikers can be seen walking over footbridges along the bottom of the basin.

Blue Canyon Stream
The loose bluish soil gives runoff from a recent rain a creamy color.

This Blue Earth
A thin band of milky water spills over the side of a small wall. The scene almost looks extra-terrestrial!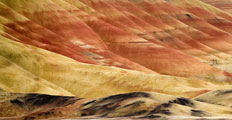 Thick Color in the Painted Hills
Down the road, the recent rain deepens the colors of the Painted Hills.

Passing Storm
This is a view to the south over the landscape surrounding the Painted Hills. The most colorful section of hills (where the national monument is) is toward the right side of the photo.
Layers of Color
The next morning, the blue sky returned, adding another color to the pallet.
May 2003: A weekend spent exploring the John Day Fossil Beds

Swallow's Nest
The John Day Fossil Beds National Monument is located in 3 distinct areas of north central Oregon in the John Day River drainage. These cliff swallows were nesting on a cliff (where else?) in the Clarno area of the Fossil Beds.

Sheep Rock
The John Day River carries a huge amount of sediment - a rare thing to see in this part of the country. You can see the river flowing here in front of Sheep Rock, another feature in the Monument. The fossil beds area has yielded some of the largest concentrations of fossils in the world. It's amazing what's now known about the historic climate, flora and fauna of the area... all due to a careful reading of the rocks.

Striped Like Mars
The Painted Hills is another segment of the park. The colored clay soils look as if they're dripping with fresh paint.

Heavy Walls Settle Down
It was late springtime in the desert, and many flowers were in bloom.

Above the Painted Hills
The light wasn't very good for photos this weekend, but I did the best I could. It was hazy with light overcast most of the weekend, this made the sky mostly a uniform light gray sheet. This makes it little more difficult to see the subtle textures in the hills.

Fishing Warm Springs Style
We passed this group of Warm Springs Indians fishing along the Deschuttes River.

Blue Canyon
The Blue Basin is another feature in the Monument. The canyon walls shine with a timid tint of blue.

Where is it?
The John Day Fossil Beds National Monument is located in northern Central Oregon.
Before you go...
It gets really hot in the summer and cold in the winter - prepare appropriately.