Iceland Misc.
July 2006: Various places in Iceland
Dettifoss Rainbow
This rainbow is caused by the sun hitting the mist from the waterfall Dettifoss in the north of Iceland. The "good road" to Dettifoss doesn't lead to the best view, as the falls are angled to be facing the other side.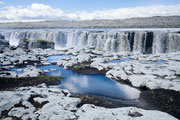 Sellfoss
Sellfoss is just upstream from Dettifoss. In this case, the "good road" does lead to the best view. Sellfoss is a very broad waterfall, but not excessively high. It is quite beautiful and interesting to experience though.

Foss
This is a waterfall simply called "Foss" (i.e. "Falls"), it is located on a farm along the ring road 12km north of KirkjubŠjarklaustur (say THAT 5 times fast!). I really wanted to get a photo of the sign for KirkjubŠjarklaustur, but unfortunately it was abbreviated.

Where am I?
This viewing disc points out all the mountains that can be seen on the horizon - just close one eye and line up the pointer with a peak to see which it is. This particular viewing disc was located somewhere near Varmaland in the west of Iceland.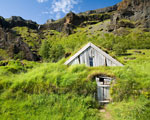 Turf Building
Years ago, turf buildings like these were common in many parts of Iceland. This kind of construction gives great insulation - it gives one some idea of just how severe the winters in Iceland can be. All you need is a few sheep to graze the roof.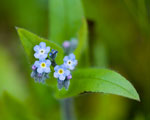 Tiny Beauty
We found these tiny flowers growing all over Iceland. They are really quite small - only a couple millimeters across. Not that it matters, but this particular bunch was growing near the campground in Skagastr÷nd in the north of Iceland.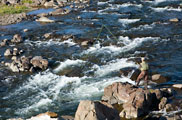 Laxß Fisherman
This man was fishing on the Laxß river near B˙­ardalur in the west of Iceland (there are a few rivers named Laxß in Iceland).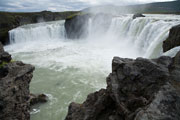 Go­afoss
Go­afoss is a powerful waterfall in the north of Iceland. Legend says that one of the local chiefs pushed his statues of the Norse gods into this waterfall when Iceland decided to convert to Christianity in the year 1000. (Coincidentally, the same year that Leif Eriksson set foot in North America)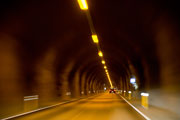 Iceland Tunnel
The Iceland ring road passes through a few tunnels. This one is just south of Rey­arfj÷r­ur in the East fjords.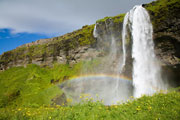 Seljalandsfoss
Seljalandsfoss is a remarkably beautiful waterfall in the south of Iceland, about 20km west of Skˇgar. A short trail makes a loop behind the falls. Seljalandsfoss is especially spectacular when the wind blows the spray, and the sunlight shines to make a rainbow.

Where is it?
Iceland is located in the North Atlantic ocean.
Before you go...
It's cold and dark in the winter, and cold and light in the summer (and windy all year).