July 2006: Visiting Húsavík

This is Iceland
Húsavík is a charming little town in the north of Iceland. The picturesque setting includes a harbor, hills filled with flowers,a clear stream through the town center, mountains over the bay, and of course, a well-tended church.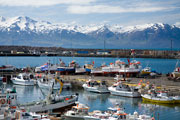 View West from Húsavík
Most of the boat traffic in Húsavík is related to fishing, but whale watching has grown to be quite popular in the summer. When you add in the guest housing and meals, it becomes a significant contributor to the local economy.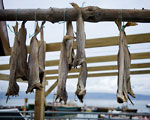 Fish Rack
Fish hang to dry in the wind near the harbor. Dried fish is a fairly popular snack in Iceland.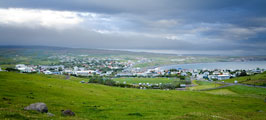 A view of Húsavík
This panoramic view of Húsavík gives a little taste of what the nearby landscape looks like.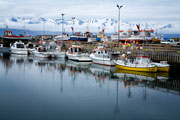 Húsavík Harbor
Another view of the harbor at Húsavík. The distant mountains are on the unpopulated peninsula of Í Fjörđum.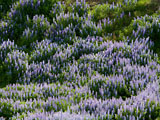 Lupine Hillside
When we visited, the hills behind Húsavík were completely covered in lupine as far as the eye could see.

Where is it?
Húsavík is on the northern coast of Iceland.
Before you go...
Húsavík is just a delightful place. If you're touring Iceland, it would be a nice town in which to spend a relaxing period... provided the weather cooperates.
Comments
Enter comments below