April 2006: A visit to the blossoming orchards in the Hood River Valley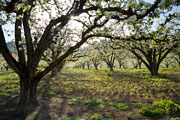 Orchards in the Sunlight
It's that time of year again - when the orchards of Hood River, OR are filled with fluffy white blossoms. It's been fairly wet and stormy this year - this was one of the first clear days of the season.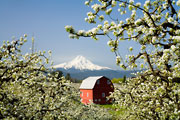 The Barn
There are a lot of barns in the Hood River valley, but none of them are as photographed as often as this one. On the morning when this photo was taken, there were easily 2 dozen other photographers snapping away. It was a little difficult to find shots without people in the way!

Blooming Orchards in the Hood River Valley
Mt. Hood rises above a panorama of blossoming fruit trees.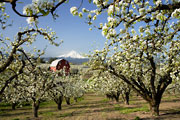 Blossoms, Barn, and Mt. Hood
Another view of the famous barn.

April 2004: Spring blossoms in the orchards near Hood River

Springtime View
The orchards south of Hood River bloom in mid April. The snowy pyramid of Mt. Hood is icing on the pastoral cake.

Mt. Hood
Mt. Hood rises above the fields.

A Fine Day
It's hard to think of a more pleasant way to spend a warm spring morning than walking among the flowering orchards.

Horse in a Field
Yes... it's a horse... in a field.

Where is it?
Hood River is about 60 miles east of Portland, OR. The orchards are about 10 miles south of town along the Hood River.
Before you go...
The orchards are best photographed in the early sunny mornings, when the sun lights up the north and east side of Mt. Hood. (Though cloudy days bring their own photographic opportunities). Bring a map!

[an error occurred while processing this directive]