December 2006: Wind storm!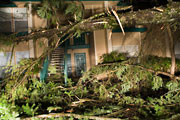 Beargrass in Bloom
A big wind storm hit the northwest US on December 14, 2006. Gusts got up to 65mph inland (close to 100mph by the coast). It had been raining a lot lately, which loosened the soil. Some of the big trees in the area where I live came toppling down. I had been standing in front of this staircase just a few minutes before this tree fell.

Paradise Park View
These trees originally grew as part of a thicker forest, which helps break-up the wind. When most of the trees are removed, it leaves the remaining trees vulnerable to wind gusts. This tree was uprooted by the wind, and smashed into an apartment. It might be a bit tricky to remove.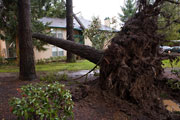 Paradise Park Flowers
This uprooted tree sliced through a second floor apartment.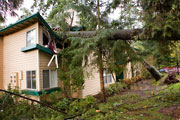 View of Mt. Hood
Luckily, the family who lives here wasn't home when the tree crashed through their roof!
Various times: Exploring Hillsboro, Oregon USA

Frozen Stream
This male Pileated Woodpecker was slurping-up ants from the trunk of a Western Redcedar tree in front of my home one morning. I was pretty lucky to get close to this usually shy and wary bird.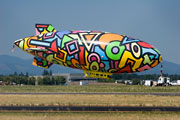 Lonely Tree
This creatively decorated small blimp was docked at the Hillsboro Airport for a number of weeks in the summer of 2005. It's called the "Ameriquest Soaring Dreams Airship", and is a visible symbol of an education program promoted by the Ameriquest mortgage company.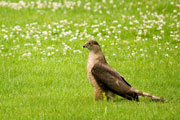 Weathered Tree
This is either a Coopers Hawk or a Sharp-Shinned Hawk (the two look very similar). It lingered on the lawn out in back of my home for just long enough that I could get some nice photos.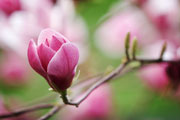 McNeil Point
Near the start of spring, the Magnolia trees around the area bloom.

Ramona Falls
Hillsboro, OR is located about 15 miles west of Portland, OR. This photo was taken just after a rare ice/snow storm effectively shut down the town in January 2004.

High on the Timberline Trail
The ice coated everything. These dried weeds became like brittle glass swizzle sticks.

Elliot Glacier
This swallow is laying claim to a home in Jackson Bottom wetlands. Unfortunately, a local power utility has laid claim to a big chunk of land adjacent to the wetland, and is building a monstrous office building that is visible from every part of the wetlands - effectively ruining the rural character of the area. Oh well, don't you just love progress?

Mountain Cat's Ear
Jackson Bottom is a wetland preserve just south of town. It's interesting how what were once undesirable "swamps" are now marketed as "wetlands". I do agree that wetlands are very important ecosystems, but I just wish it didn't take silly naming games to affect our attitudes.

Cooper Spur Shelter
This is the view out the back of my apartment. Trust me, it's not nearly as exotic as it appears in this photo.

Parting Clouds on Mt. Hood
Noble Woods is a small forest park just down the street from my home. A pleasant multi-use path meanders through the woods.

Mt. Hood Ridge
A few vanilla leaf plants were growing in the center of Noble Woods.

The Hogsback
This shelter in the park was recently constructed in 2003/2004.

Summit Ice
The courthouse in downtown Hillsboro is barely visible behind all the flowering plants and trees! Just around the corner is a grove of a few giant sequoias that were planted in the late 1800's by an early settler. It's quite impressive to see how large they've already grown.

Illumination Rock
The area around the courthouse becomes alive with color in the spring.

Where is it?
Hillsboro, Oregon is essentially a suburb of Portland, OR. It's about a 15 minute drive west of Portland along Hwy 26 to reach Hillsboro. It was once an independent community, and does still have a distinct downtown area... but the boundaries of Beaverton-Aloha-Hillsboro-Forest Grove all now run together.
Before you go...
Be sure to stop in and say hi! (Well, I guess, that's "when" you go...)