February 2009: A visit to the Heceta Head area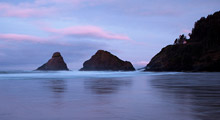 Aglow
Sunrise brings pink clouds to the beach below Heceta Head. The famous lighthouse sits partially hidden from view behind a clump of trees. The lighthouse was under repair during this visit, so the photos in this group don't highlight the famous tower. The lighthouse windows are leaking, allowing water to corrode the fragile lens structure. A screen has been put over the glass to protect the lens. It's not clear how long the lighthouse will be out of commission. Funds haven't been secured for its repair.

Churn
Seawater drains off the face of rocks at Heceta Head, just after a wave crashed in.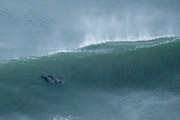 Surfs Up!
These Sea Lions appreciate a good set of waves.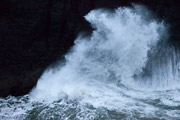 Crash!
Another wave smashes into the rocks at Hecta Head.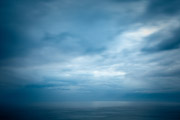 To Sea
The vastness is difficult to convey.

Where is it?
Heceta Head is located about 20 minutes south of Yachats, OR, along the Oregon Coast.
Before you go...
The classic view of Heceta Head is along a roadside pullout, about a half-mile south of the lighthouse. If you stop there, be sure to look down the cliffs to spot Sea Lions.