May 2005: A visit to the Pete French Round Barn

Support
You may not think something as straight forward as a round barn is particularly noteworthy. But on closer inspection, the Pete French Round Barn yields a unique cathedral-like power and ambiance.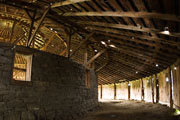 Outer Path
Build around the year 1880, the round bard was used by cattle baron Pete French as a "horse-breaking" facility. When one considers the landscape and time period, the barn can truly be admired as engineering accomplishment wrought by a determined spirit.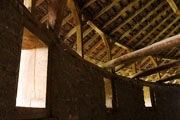 Windows
An inner brick wall helps support a impressive structure of Juniper logs and other timbers hauled from dozens of miles away.

Wall Eyes
The old wood and stone tells the story of past era.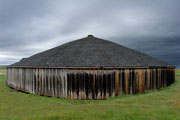 Round
The barn was actively used until the late 1960s, when the most recent owners, the Jenkins family, donated it to the state of Oregon for preservation as an historical landmark.

Where is it?
The Pete French Round Barn is located in south eastern Oregon, near the Malheur Wildlife Refuge. The nearest modestly sized town is Burns (pop ~2,000), nearly 60 miles away.
Before you go...
Be sure to stop in the visitor's center, and say hello to the nice folks inside!