May 2007: Exploring Death Valley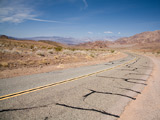 The Way to Death Valley
These days, there's a good road to Death Valley. While the valley is still hot and dry, the road takes out some of the sting. You can even get water and gas ($4.50/gallon) in the heart of the valley.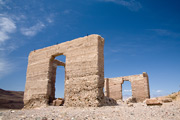 Death Valley Ruins
While the main attraction is the natural wonder of this inhospitable place, it has a storied human history as well. People mostly came to the area to mine various minerals, such as precious metals and borax. Today, all that remains of their efforts are a few lonely walls, and old bits of machinery.

Badwater Sign
Badwater Basin is the lowest point in the western hemisphere - 282ft below sea level. A small pool of salty water is nearby, and the salt flats extend for miles.

Hiking Through Rock
There are a number of side canyons to explore.

Death Valley Arch
This canyon is spanned by a natural arch.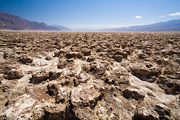 Devil's Golf Course
These heaping salt formations are known as the devils golf course. The mounds are a couple feet high, and difficult to walk among. Really, I think it's best not to wander far, so that the delicate crystals aren't damaged for the next visitor. These do get replenished with the rain, but rain is a pretty infrequent event in Death Valley.

Artist's Pallete
A road winds through another side canyon called the Artists Pallete. The varied colors of the rocks are rather striking.

Through Golden Canyon
The walls of Golden Canyon are immense. This canyon makes a nice side-trip.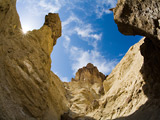 Looking Up
This is a view is a look up one of the small feeder-canyons within Golden Canyon.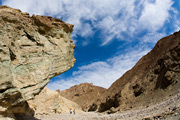 Golden Canyon Rock
Another heap of rock greets visitors to Golden Canyon.

Zabriskie View
Zabriskie Point is a great place to admire the crinkled landscape. The place was named for some office slug at a Borax company.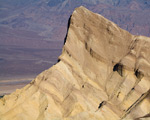 Manly Beacon
Manly Beacon was named for William Manly, the leader of an emigrant party who stumbled into Death Valley in 1849. He managed to go get resupplies, return, and bring the rest of the party out safely (though, they had other troubles later).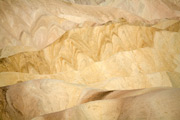 Abstract Zabriskie
More of the delicate rock patterns at Zabriskie Point.

Exploring Mosaic Canyon
Mosaic Canyon is another small side canyon in Death Valley. Part of the floor of this canyon is made from marble, polished by the infrequent water which rushes through from time to time.

Mosaic Canyon View
The clouds provide intermittent shade for visitors to Mosaic Canyon.

Where is it?
Death Valley is in eastern California, just a bit south too... The nearest major city is Las Vegas, NV.
Before you go...
Spring is obviously the most popular time to visit. There's a chance for desert blooms from winter rains, and the temperatures are bearable. Fewer people visit in the scorching heat of summer, when temps can climb into the 120s and beyond... If you visit, carry extra water in your car, and tank-up on gas. While both are available at a couple locations within the park, it's not worth a risk to run out. This is a huge park, if you want to see all the main sights, plan at least a few days. Most of the roads are good, but it'd help to have a high-clearance vehicle if you wanted to visit a couple places. There is also a ton of backcountry to explore, and even mountains climbing to around 9000ft.