February 2009: A short walk through time on the Cook's Ridge Trail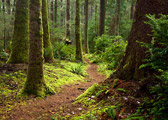 Forest Path
The Cook's Ridge Trail heads through one of the last remaining stands of old growth Sitka Spruce on the Oregon Coast. These massive trees were cut with impunity when the area was first settled by westerners. One has to ask; what was gained by this unmitigated mulching? What monuments did it build? Were they as grand as this one created by nature? We need wood, for sure. But do we need every last morsel? Is there only room enough for this tiny stand among millions of denuded acres?

Tall
Giant Sitka Spruce and Western Hemlock reach toward the sky.

Balance
As one tree slowly crumbles, another canopy takes its place. Both make the forest what it is. One without the other is an orphan sibling.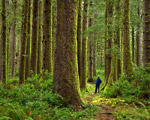 Among Giants
There is nothing to compare with a quiet misty morning spent in such a cathedral. To witness this is to know life's true measure.

Where is it?
The Cummins Creek Wilderness is adjacent to Cape Perpetua National Scenic Area along the coast of Oregon - just south of Yachats, OR. The Cook's Ridge Trail heads up from a parking area in the Scenic Area. This trail is not in the Wilderness area, but rather north of it.
Before you go...
A NW trail park pass is required to park at the trailhead. Try to visit on an overcast day for the best photography and mood. Or, try the early morning and late evening hours.