New Year 2008-2009: Overnight at the Clear Creek Butte Fire Lookout

Through the Snow
It's a three mile trip to the Clear Lake Butte Fire Lookout from the nearest trailhead. The route follows forest roads that remain unplowed in the winter. The area is open to snomobiles, so you can expect to be passed by a few along the way...
On this trip, we were blasted by a thick snow the entire way. The wind picked up as we climbed up to the top of Clear Creek Butte.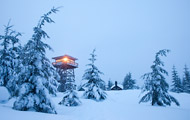 Warm Glow at Dusk
The Clear Lake Butte fire lookout emits a warm glow as dusk settles in.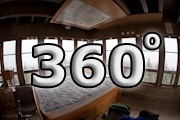 It's All About the View
Click around this image for a 360-degree view (requires the Quicktime plugin).
The whole point of a fire lookout is that it has an unobstructed 360-degree view of the surrounding landscape. While the weather prevented any distant views during our stay, it was still impressive to look at the snowy treetops as they were battered by the strong winds.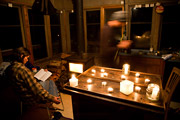 A Quiet Evening
The lookout has a few solar panels and battery, which provides enough power for a single light and a small refridgerator. Candles provide a little extra light, and a wood burning stove keeps the small confines toasty warm, while the wind rattles the windows and rocks the foundation.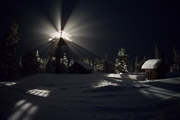 Beacon
The lookout provides the only light in an otherwise pitch darkness.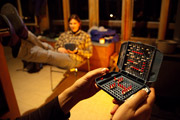 Much to Do
The lookout has a small kitchen, a bed, and a couple cots. The maximum occupancy is four. Previous visitors have left some silverware, pots and pans, and a few games... like Battleship. Things are not looking good for the player in the foreground.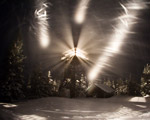 The Storm
While the wind and snow rages outside, the occupants of the lookout stay comfortable in their cocoon.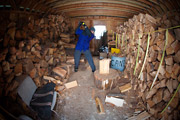 The Woodshed
The woodshed at the base of the lookout is well-stocked for a long winter.

Where is it?
The Clear Lake Butte Fire Lookout is located about 15 miles south of Mt. Hood in the Mt. Hood National Forest.
Before you go...
The lookout is available for rent during the winter months. It's very popular to rent, so make your plans early. It's a 3 mile ski, snowshoe or snowmobile ride to the lookout along closed forest roads. An outhouse is on-site, as well as a well-stocked woodshed. There's a matress and a couple cots... the lookout can support 4 people - the tower isn't built for supporting large parties.