June 2009: Visits to Sparks Lake and Todd Lake

Spotted Sanpiper
A small group of Spotted Sandpipers was patrolling the shore of Todd Lake. This one took a little break on a shoreline log.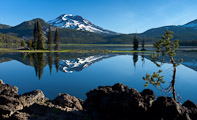 Gem of the Cascades
Sparks Lake is everything you expect a mountain lake to be.

Bachelor
Mt. Bachelor rises above Todd Lake. Marsh Marigolds dot the foreground...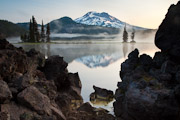 Steamy Morning
Mornings on Sparks Lake often arrive with a blanket of fog and mist... giving a mysterious quality to the sunrise.

Forest Dreams
A reflection of forest in the misty waters of Sparks Lake.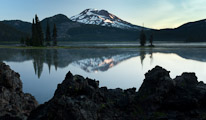 Rocky Shores
The shoreline of Sparks Lake is made of sharp volcanic rocks.

Todd Lake - Now with Log!
A log slowly decays under the chilly waters of Todd Lake.

Islands...
Later in the season, the level of Sparks Lake slowly goes down, revealing more and more rocks along the shoreline.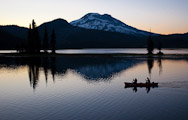 An Evening Paddle
A couple of canoers set out to enjoy the sunset on Sparks Lake.

Where is it?
The Cascade Lakes region is located in the central Oregon Cascade Mountains. Dozens of large, and hundreds of small lakes dot the landscape. Giant volcanoes line the horizon as well.
Before you go...
The easiest access to this area is generally from the Bend, OR area. Expect roads to be covered in snow from late November until early June.