November 2007: A hike through the Alaka'i Swamp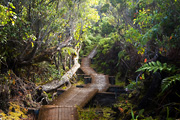 Alaka'i Boardwalk
Thankfully, long portions of the Alaka'i Swamp trail are comprised of narrow boardwalks. This not only keeps one's feet out of the mud, but also helps maintain the natural beauty of the immediate area around the path. As hardy as these tropical plants are, they can't withstand a regular pounding of human feet. The boardwalk lets the undergrowth grow in a more natural state.

A View to Wai'ale'ale
This is a view southeast toward the peak of Wai'ale'ale, the highest point on Kaua'i, and the rainest spot on earth (a claim made by other places as well) - with a yearly rainfall of up to 500 inches. Located just northeast of this soggy peak, the Alaka'i swamp is the only high-altitude swamp in the Pacific Islands, and home to a number of Hawai'i's rare native birds.

On Display
November isn't the best time of year for dramatic tropical colors, but a few trailside flowers were in bloom.

Through the Swamp
The boardwalk twists through the wetlands on the high plateau of Kaua'i. The route it follows is similar to a footpath taken by native Hawai'ians to connect the southwest and northwest parts of the island. With no boardwalk as a guide, they must have picked their way carefully.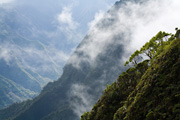 Kilohana lookout
Eventually, the trail ends at the Kilohana lookout - a wooden platform on a precipitous perch. When the swirling clouds part, they reveal a majestic view down the Wainiha valley toward Ha'ena on the north shore.

Native Kaua'i
The 'Ohi'a Lehua is one of the beautiful native trees of Kaua'i. Small birds such as the yellow 'Anianiau and red 'Apapane flitted through the branches, feeding on the nectar of flowers like these.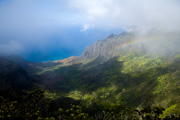 Kalalau Valley
Back near the trailhead, the path skirts the upper edge of the Kalalau Valley. There is no trail down this valley - the only way to visit the beach at the foot of the valley is by boat, or the 11-mile Kalalau Trail. I did pause to wonder however - the cliff walls were quite steep, but a couple of them could support a well constructed set of switchbacks. Though on further reflection, perhaps it's best to keep some places inaccessible... Kaua'i has seen enough footprints of men.

Where is it?
The Alaka'i swamp is located in the highlands of Kaua'i. The most popular trailhead is at the Pu'u o Kila lookout at the end of the main paved road up Waimea Canyon.
Before you go...
Try early morning or late afternoon to avoid most of the cloudy weather. Though, the clouds can add an interesting quality to the atmosphere... Expect that you might get rain, but prepare for sun.